Promotes Balance, Mindfulness & Playfulness
Rich dark chocolate, laced with toasted hazelnuts, pecans and dried currants rounded off with cinnamon and salt.
Serving Size 1/2 cluster (10.5 g) 10mg THC per serving, servings per container 8, Amount per serving: Calories 45, Calories from Fat 22.5, Total Fat 2.5g (4%DV), Saturated fat 0.75g (4%DV), Trans Fat 0g (0%DV), Cholesterol 0mg (0%DV), Sodium 17.5mg (0.5%DV), Total Carbohydrate 6.5g (2%DV), Dietary Fiber 0.5g (2%DV), Sugars 3g, Protein 1g, Vitamin A 0%DV, Vitamin C 0%DV, Calcium 1.5%DV, Iron 2%DV
Oats, Honey, Brown Sugar, Dark Chocolate (Cacao Beans, Pure Cane Sugar, Cocoa Butter, Soy Lecithin, Vanilla Beans), Sorghum, Pecans, Hazelnuts, Currants, Cannabis Infused Coconut Oil, Salt, Cinnamon.
Contains Hazelnuts and Pecans.
MANUFACTURED IN A FACILITY THAT PROCESSES: Soy, Wheat, Tree Nuts, and Seeds.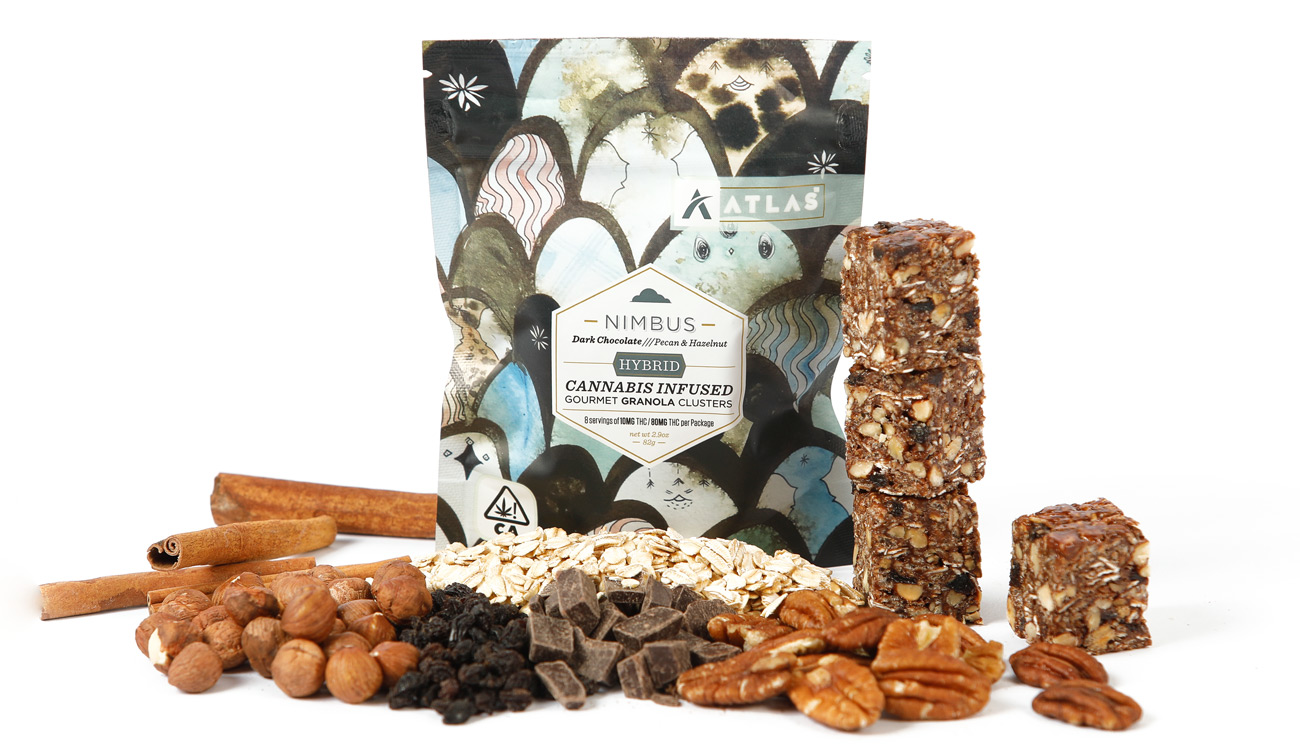 This flavor represents feelings of evenness, nurturing, and healing. Nimbus is infused with hybrids which utilize a balance of both indica and sativa predominant strains. These products are focused on offering a more leveled experience by providing the functional, uplifting effects of sativa and the relaxing, calming, body high of indica.


1/2 Cluster
Moderate Effect

3/4 Cluster
Substantial Effect

Full Cluster
Intense Effect
The effect varies per individual. Starting dosage using mild effect is recommended.
Full sensation occurs within 45 min. -2 hours. For additional sensation use scale provided to increase dosage to your desired effect.
MAX KAUFFMAN
Nimbus Bag Atist /// Illustrator & Muralist
My work is a release – akin to meditation, a relief from the chaos of our day to day lives. Over the last two years, houses and architecture have become the zenith of my work. They are sanctuaries…somewhere to catch up, take a breath, recharge. The world I portray is sometimes yours and mine and sometimes a more magical place – I call it future primitive. It is a potential path or maybe just a way to reconnect with more pure ideas of culture from our past. It is knowing empires crumble, but accepting the growth that emerges in the aftermath.